Wilderness
A green aosis
The Outeniqua Choo Tjoe steam train originally ran through the town en route between George and Knysna during its years of operation. Wilderness was the home of the former State President of South Africa, P.W. Botha, until his death in 2006
Victoria Bay
A very special little corner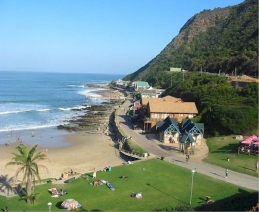 A small bay but very polupar for surfing, bathing and all that you do at the beach. Just a short drive down to the beach for a five star day!
Plettenberg Bay
Another jewel
Plettenberg Bay is the jewel of The Garden Route and is tranquil and charming, hospitable and rather special. Originally christened "Bahia Formosa" (beautiful bay) by early Portuguese explorers, Plettenberg Bay offers the visitor miles of sweeping, un spoilt golden beaches, a dramatic rocky peninsula, intriguing lagoons and estuaries, towering indigenous forests and unpolluted rivers and sea. With its exceptional climate and beautiful view sites over the Indian Ocean, Plettenberg Bay is perfect for tourists interested in exploring, watching or just lazing. Situated between the hills covered with indigenous Fynbos and the Bitou River is the tranquil and rural village of Wittedrift, it is a bird and nature lover's paradise.
Herolds Bay
Sunshine, sea, shells, swimming, shh...
The beautiful, secluded bay called Herold's Bay has held an allure for holiday makers since time of old. Sketches and photographs in the George museum tell of ox wagons filled with tents, goods and servants, camping out on the beach itself. Today the bay is no less of an attraction and surfing, fishing and swimming, sheltered from the south easterlies that can blow on the coast, make this a favourite destination. Only 15 kilometres from George, the bay literally nestles in a sheltered rocky cove with a wide stretch of beach and inviting waters.
George
A city but now quite...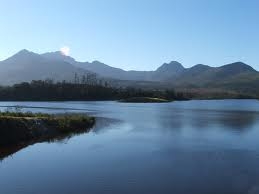 George offers you all you need and a little more. It is a city and yet often tehre is still the town atmosphere. Enjoy the comforts and yets stay close to nature. Just what you need!
Outshoorn
The cradle of the ostridge, giving birth to a unique culture
Enjoy a unique experience on the back of the world's biggest bird after learning about the many peculiarities of this interesting species. This is but one of the many interesting visits to be made in Outshoorn, the ostridge capital of the world.
Cango Caves
Nature's special show
The Cango Caves is the only show cave in Africa which offers a choice of Standard (easy) or Adventure Tours. All tours are lead by experienced, knowledgeable and accredited Caves Guides.